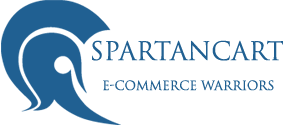 Simple, Economical Shopping Cart Programs for Small Business
Perhaps you are looking for simple e-commerce shopping cart program for your growing business. You want to enter the world of eCommerce, but you are weary about investing too much. You still want to get a feel for selling online. At Ecillin, we understand the need for some businesses to keeps costs low when it comes to their eCommerce investment. We were there too! That's why we developed the SpartanCart Platform – an economical solution that allows you to conduct transactions over the internet, but doesn't deplete your resources.
How It Works
The SpartanCart platform is an application that we securely host, and which your customers seamlessly link to from your site. You don't worry about hosting, or security, or up-front development costs. We have already developed an affordable e-commerce shopping cart program that you can harness for your small business needs. In essence, it's a simple shopping cart that you lease from us to eliminate exorbitant development fees. You can use it immediately, and manage it completely and easily. With our friendly and helpful tech support, you have the comfort of knowing that we will work with you every step of the way.
Customized Shopping Cart Development
If our basic shopping cart options aren't exactly what you are looking for, we can tailor a customized cart solution according to your specifications, including complete integration with your current site. Customized graphical options, product display options, custom forms and search features are available. Pricing depends on the nature and level of the customized scope of work.